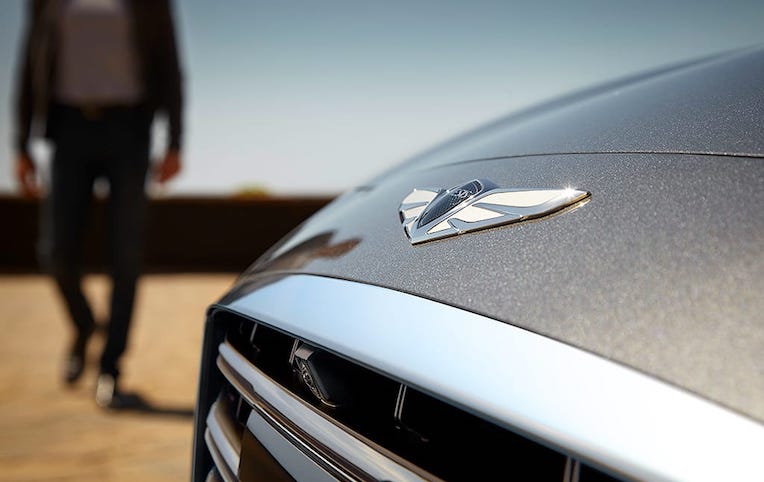 Leasing a new Genesis vehicle has always been a popular option for those who want to enjoy the latest and greatest models from the Genesis lineup. While we realize that a new Genesis lease is an exciting prospect, it can certainly be daunting when it comes to the end of your lease, but our Genesis finance center in Alexandria is here to help! When you reach the final four months of your lease, we invite you to explore your options below:
Option 1 | Upgrade and Lease a New Genesis
It's easy to return your current Genesis vehicle and upgrade to a new model if you find yourself wanting to continue your Genesis experience at the end of your current lease. Before returning your vehicle, complete the self-assessment form to identify any excess wear and use on your lease and visit our Alexandria dealer to explore our inventory of new Genesis models for sale. Feel free to use this time to schedule a test drive and ask our knowledgeable sales team questions about our fleet of Genesis models to ensure you find the vehicle that's right for you.
Eligible leasees who choose this option will also be rewarded for their loyalty as Genesis will cover their disposition (turn-in) fees up to $400, cover any Excess Wear and Use charges up to $500, and 2,500 miles of Excess Mileage charges up to $625. If you decide to purchase or return your current vehicle, however, you'll be responsible for all charges.
Option 2 | Purchase Your Leased Genesis
Unable to part from your current ride? You don't have to! If you love your Genesis model, there's no need to complete the excess wear and use assessment. Simply notify your Genesis dealer or advisor of your intent to purchase the vehicle and request a buyout quote through Genesis Finance or by calling the Genesis Lease-End Concierge at (833) 537-5441. A title release will arrive in the mail once your buyout payment has been processed.
Option 3 | Return Your Leased Genesis
Do you plan on returning your Genesis? The first order of business is to evaluate your vehicle for wear and tear by performing a Vehicle Self-Assessment. After this, be sure to contact your Lease-End Concierge to schedule a pre-termination vehicle inspection and discuss any potential fees that may be due if you decide to return your lease.
How Can You Prepare To Return Your Lease to Genesis of Alexandria?
To ensure the vehicle return process goes smoothly, we recommend you:
Clean the inside and outside of your ride
Gather all original equipment provided with the vehicle
Fill out and sign the Odometer Disclosure Statement
Cancel any automatic payments scheduled for your vehicle
No matter which route you decide to take at the end of your Genesis lease, we're always happy to help our Washington D.C., Arlington, and McLean area Genesis owners! Feel free to contact us online to further explore your Genesis lease-end options or for any additional questions you might have.